With our 30-day Health Guarantee, returns are free!
Wear your Aetrex shoes or orthotics for up to 30 days from the date your order was received, and if they are not the perfect fit for you, just send them back to us.
Here's how to get the return process going:
1. Visit returns.aetrex.com and enter your order number along with your zip code or email address. Click on "Find Your Order."
2. Choose the product you wish to return and select the reason for the return. Click "Next."
3. Opt for "Refund to Original Payment Method."
4. There are two available methods for returning the item:
1) Return with Happy Return: This method involves utilizing the QR solution. Notably, you will not require a printer for this process. Furthermore, there is no need to place the item inside a shipping box or affix any labels. We highly recommend to put in its original shoe box. Please show the QR code to the store associate at Office Depot or other partner stores that's convenient for you.
2) Return with Prepaid Return Label: This approach employs the prepaid return label solution. Customers opting for this method will need to print the provided PDF label upon completion. After securely packaging the item/s within a shipping box, they should attach the printed label and subsequently drop off the package at any USPS location.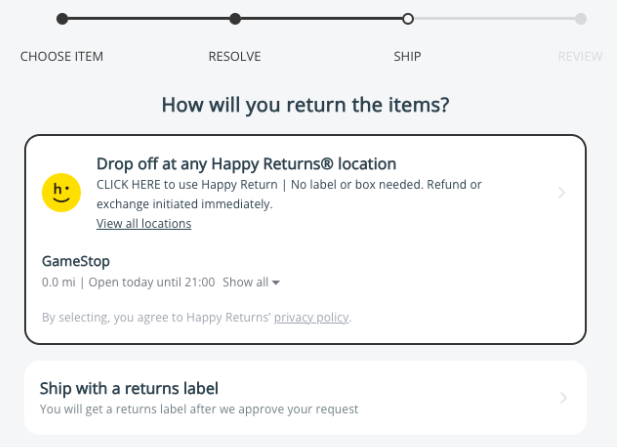 5. After reviewing that all information is correct, submit your return request.
1) Return with Happy Return: If you have chosen the QR code solution (Happy Return), you will promptly receive an email containing the QR code, accompanied by comprehensive instructions. In case this email is misplaced, you can conveniently revisit the return center.
2) Return with Prepaid Return Label: If you have selected the prepaid return label option, you will receive an email inclusive of the return label, along with detailed instructions. In scenarios where this email is misplaced, customers are encouraged to return to the return center.
6. Now, either print your label or have your QR code ready and proceed to drop off your package at the designated store.
Shipping charges from the original order are non refundable.
For our valued Canadian Customers:
Canadian orders will exhibit a status of "Waiting for Approval." In such cases, the Customer Service (CS) team will need to manually issue the shipping label. If you need further assistance with returns, or if you are past your return window, please contact our customer service team by phone (888-526-2739), chat, or email at help@aetrex.com.